Everything but ordinary - our PU suction hoses.
Polyurethane hoses, also called PU hoses, are highly abrasion-resistant, flexible hoses made from the polymer material polyurethane. Polyurethane (PU) is popular for its elasticity and abrasion resistance. They are widely used in a variety of industrial and commercial applications due to their flexibility and resistance to abrasion and chemicals. In addition, polyurethane hoses have several advantages over other hoses, making them popular in a variety of industries.

The temperature range is from -40 °C to +90 °C.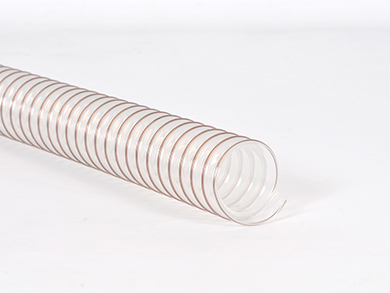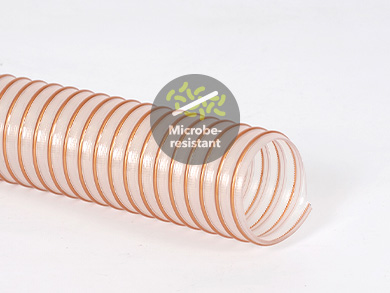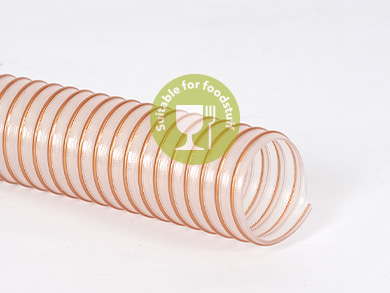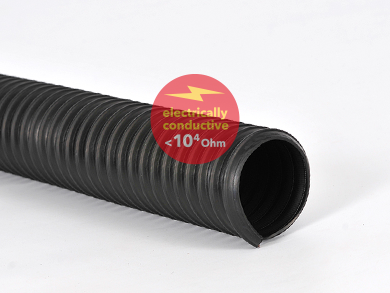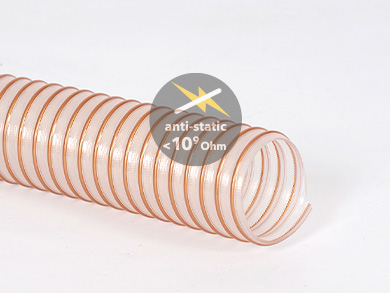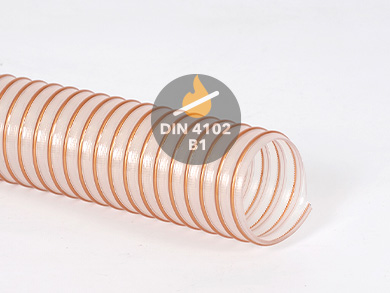 What is an extraction hose and what is it used for?
An extraction hose is a versatile, flexible, abrasion-resistant hose for the extended medium temperature range, which is usually made of polyurethane with a coated spring steel spiral embedded in the wall.
An important area of application for the suction hose is the suction of abrasive solids such as dusts, powders, fibers, chips, granulates, coarse-grained particles, liquids and gaseous media.
Depending on the area of application, the suction hose is adapted to the requirements. For use in areas subject to fire hazards, for example, the hose is made flame-retardant by means of certain additives. Various additives can also be used to make the suction hose antistatic, food-safe or microbe-resistant.
What are the distinguishing features of PU suction hoses?
One of the main advantages of polyurethane suction hoses is their exceptional durability and flexibility. Compared to rubber hoses, PU suction hoses are significantly lighter and more resistant to abrasion, chemicals and temperatures. This makes them ideal for use in harsh industrial environments, such as construction sites and manufacturing plants.
Suction hoses from SHP Primaflex are also generally characterized by a largely smooth interior. This ensures better material flow within the hose. This may result in a longer durability (service life) for the suction hose.
Where are PU suction hoses used?
Polyurethane hoses are used in a wide range of industries, e.g. in mechanical and plant engineering or in municipal and cleaning technology. Their durability and flexibility make them well suited for use in these environments, where they are frequently exposed to harsh conditions, chemicals and other substances.
In addition, the suction hoses are lightweight, which makes them easier to handle and transport. This can reduce downtime and maintenance costs and increase safety at the job site.
How cost-effective is it to use PU suction hoses?
Another advantage of PU suction hoses is their cost-effectiveness. While the initial cost is higher compared to rubber hoses, their durability and flexibility often result in long-term cost savings.
PU suction hoses are also wear-resistant, which can reduce downtime and maintenance costs. Because they also last longer than rubber hoses, they need to be replaced less frequently. This can lead to significant cost savings over time, especially in industries where hoses are used and replaced frequently.
What makes SHP Primaflex suction hose so special?
Suction hoses from SHP Primaflex are manufactured on site in a wide variety of designs. Here we have the possibility to determine the diameter as well as the wall thickness and the material. We also have the possibility to respond individually to specific customer requirements.
A suction hose from SHP Primaflex also has a largely smooth inside compared to conventional suction hoses. This ensures a better material flow within the hose. This may result in a longer durability (service life) for the suction hose.
All our polyurethane suction hoses are abrasion resistant and flexible, have low weight compared to rubber or metal, and have good chemical resistance.
In summary, polyurethane hoses offer a number of advantages over other types of hoses, making them a popular choice in a variety of industries. Their durability and flexibility, resistance to harsh conditions and chemicals, and cost effectiveness make them a good choice various industries and other applications.
Your direct line to us!
On our website you will find a large part of our product range clearly sorted. For a personal consultation or a specific offer, also for your individual needs, please click on the enquiry button or call us on
+49 (0) 4504-804-0 – we look forward to hearing from you!